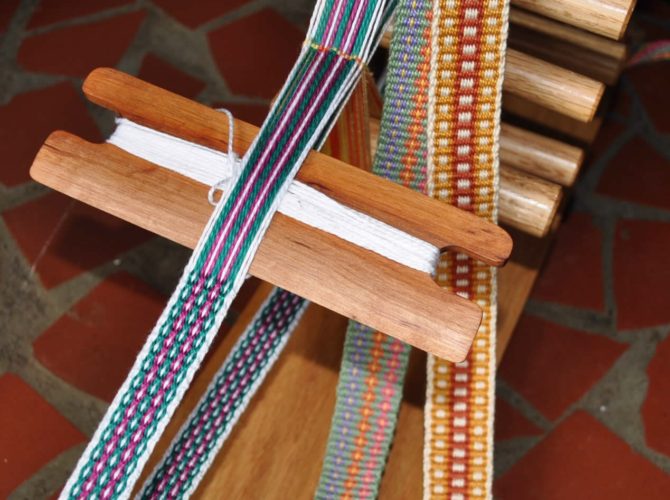 Participants will learn how to warp an inkle loom according to a specific draft and explore the several lateral basic design possibilities using pick-up techniques, including lettering. Some designs will be given but students will also be encouraged to create their own patterns using graph paper. There will be additional explanations of other techniques for future exploration.
Level: beginner. Inkle loom required.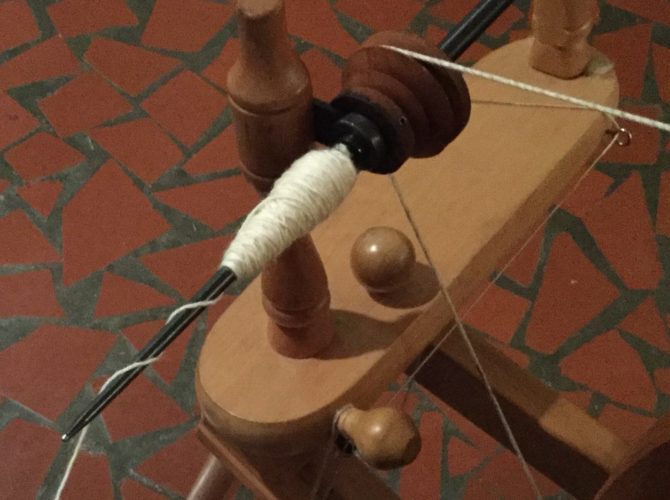 "Where did Sleeping Beauty prick her finger?" How often do you hear that question when someone sees you spinning? Take a step back in spinning technology before the flyer and bobbin and discover the rhythm of spinning on a driven spindle. Learn to draft from the tip of the spindle and to alternate drafting and winding on with a quick reversal of the wheel. A spindle wheel is well-suited to delicate fibers and even single-handed spinning – useful on a charkha or great wheel.
Level: Intermediate. Must be able to spin & ply a basic yarn. Spinning wheel with quill spindle (not flyer and bobbin) is required.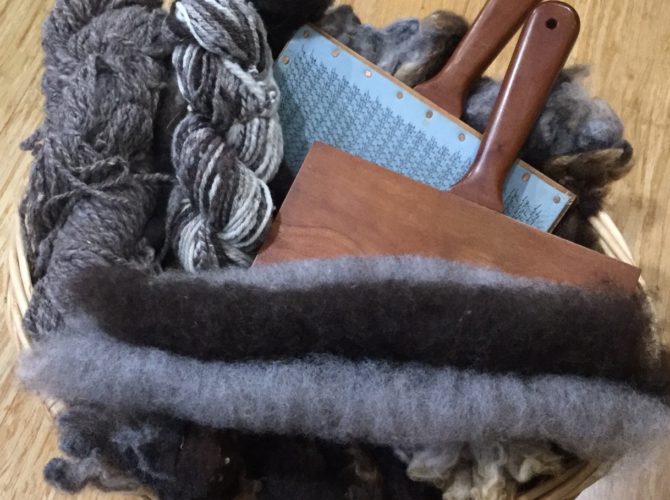 Discover the wonder of woolen spinning. Most spinners start out learning to make smooth, compact worsted yarns. Take your spinning to the other extreme with woolen long-draw from hand-carded rolags. This method maximizes loft, elasticity, and warmth in your yarn, and it feels like magic! We'll cover fiber preparation, two long-draw spinning techniques, and discuss fiber selection.
Level: Intermediate. Must be able to spin & ply a basic yarn. Single-drive spinning wheel or E-Spinner is required.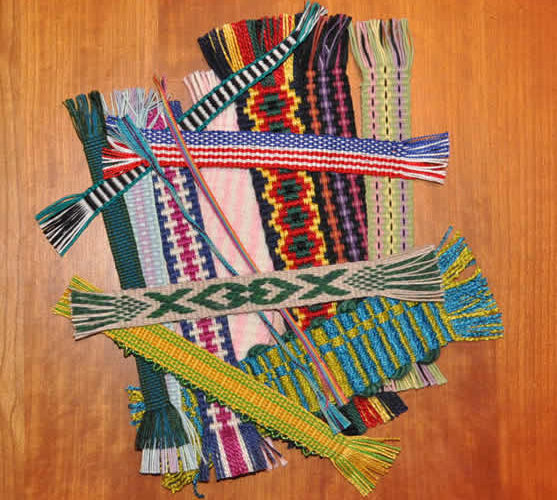 Expand your inkle weaving repertoire in a round-robin workshop. Sample a variety of patterns, yarns, and techniques. This workshop will examine design elements in plain-weave bands, and explore advanced techniques such as pick-up, rep, beads, and tubular weaving.
Level: Intermediate. Must be able to warp an inkle loom. Inkle loom required.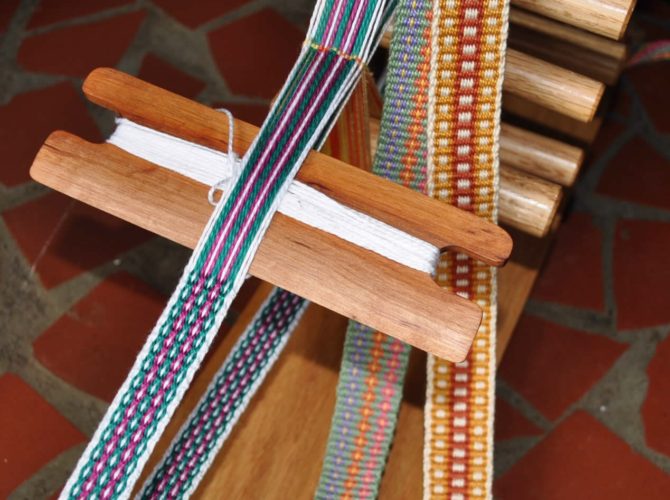 Inkles – narrow woven bands – have dozens of applications, including straps, handles, trim, material for constructing larger items, and accents for other handwoven cloth. Learn to use the simple, portable inkle loom to make your own unique creations. Select a pattern or design of your own, warp the loom, and weave a project or two. No experience is needed to start playing with the band!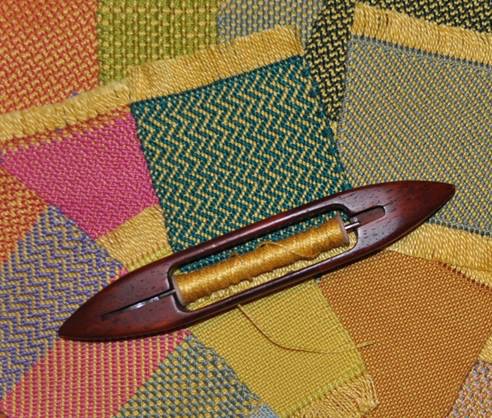 Do you dream of making your own cloth? Learn the basics of four-shaft weaving, from preparing the floor loom to finishing your fabric. Weave a sampler of several patterns, play with color and design, and create a project. Most of all, experience the joy of being a weaver!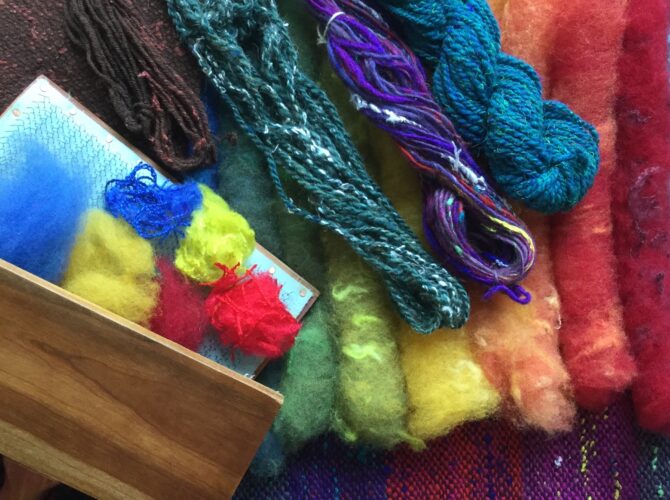 Make unique yarns by recycling weaving thrums, yarn leftovers, and salvaged silk threads into flecks of color and texture in a new novelty yarn. Design these yarns for color and contrast and create color gradients by blending small amounts of solid color fibers on hand cards. Make your color changes smooth or sudden, orderly or random, for colors that flow from one end to the other in your finished piece. This colorful class is open to students who can spin a continuous yarn.
In this weekend class, you may choose to spin yarns in multiple colorways, or design one yarn to knit or weave a scarf.