I teach a variety of textile arts workshops that can run from 1/2 day to a full week. Contact me to schedule a workshop.
---
Weaving workshops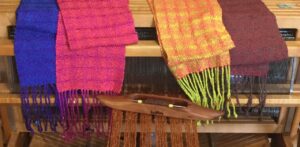 Weave a Scarf in a Day!
Weave a beautiful scarf in one day. Looms will be warped and ready to weave. At the end of the day, you'll have your own handwoven scarf! No experience necessary.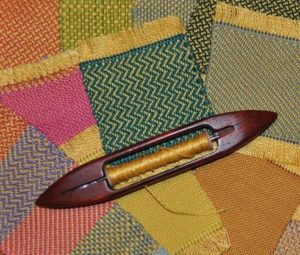 Beginning 4-shaft Weaving
Learn the basics of 4-shaft loom weaving. Start with an empty loom. Learn to read a draft, prepare a warp, dress the loom and weave a sampler with at least four different patterns. Explore additional patterns as time permits and discuss project planning. No experience necessary.
Beginning Weaving – Spaced Warp Scarf
Try your hand at handweaving with a simple and elegant rayon scarf. Learn to read a weaving plan, prepare the loom, and weave. Get creative with color, beads and design options. No experience necessary. Wear your scarf home!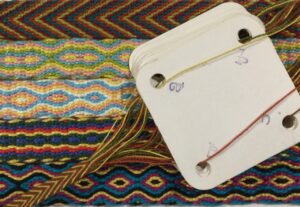 Tablet Weaving Basics
Tablet weaving or card weaving uses simple equipment to produce patterned warp-faced bands. This workshop covers the basics of reading a pattern, setting up a warp and weaving. Produce multiple patterns on the same warp by changing the turning sequence. We will weave a sampler, and then you will select your own pattern and weave a project or two. No experience necessary.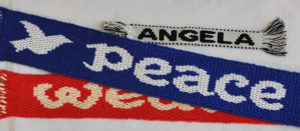 Figured Double Faced Tablet Weaving
Expand your tablet weaving from threaded-in patterns to weave figures and lettering on a two-color warp. Use the circular warping technique to prepare the warp quickly. Weave simple shapes and progress to lettering and graphing your own patterns. Prior tablet weaving experience recommended.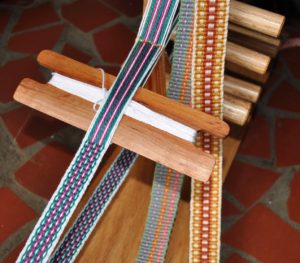 Inkle Weaving
Use simple, portable looms to weave narrow bands. Warped faced woven bands have dozens of applications, including straps, handles, trim, and material for constructing larger items. The options for these simple bands are numerous – color effects, beads, textures, and complex designs. Participants will select or design their own pattern, warp the loom, and weave a band or two. The process is a little different than loom weaving. This is a beginning level class, so no experience is necessary.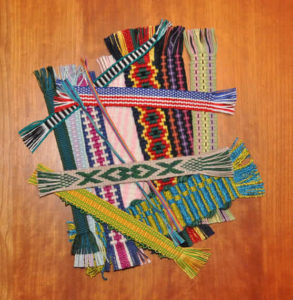 Inkle Weaving in the Round
A round-robin workshop on inkle weaving! Learn pattern design principles on a variety of plain weave patterns. Try out advanced techniques such as pick-up, beads, tubular weaves and more! In the process, we'll sample different materials and looms styles, and practice good weaving technique. Students warp their inkle loom in advance of the workshop according to provided draft.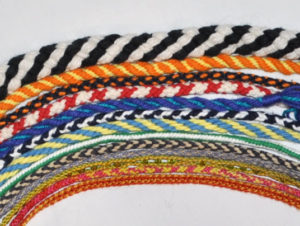 Kumihimo
Braiding is a traditional craft in many cultures. Braids can be used in many applications, from jewelry to accessories to home décor. We will work with both hand-held disks and marudai (braiding stools).  Everyone will start with a sampler braid and choose a pattern for a small project – bracelet or keychain. Kumihimo is a great complement to weaving, sewing and other crafts as a custom accent.
Name Drafting and Turned Overshot
Create an original design with a hidden message while trying out a new structure. This workshop is a skill-builder focusing on several techniques essential to designing your own woven patterns. The skills covered in this workshop include name drafting, working with a profile draft, split tie-ups, and weaving with a supplemental warp. Most of the workshop will focus on the design aspect of weaving. You will create an original design and start a scarf or table runner to finish on your own.
---
Spinning Workshops
Beginning Spinning on a Wheel
Learn to produce your own handmade yarns on a spinning wheel. Spinning is the stuff of legend, from myths and fairy tales to survival skills of our predecessors. The thread connects past to present to future, as modern day spinners push the boundaries of yarn design. Spinning unlocks your creative power: you can create yarn in custom color and feel, make yarns with a unique story, and put more of yourself into the things you make.
This class will cover the basics or turning fiber into smooth, consistent yarn, giving you a solid footing to launch your future explorations. We'll try multiple fibers and wheels, talk about fiber preparation and wheel mechanics, and get lots of practice.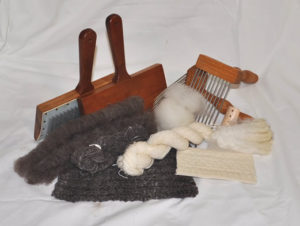 The Short and Long of Drafting
Explore four different drafting techniques and the fiber preparations that cover the range from the smoothest worsted to the loftiest woollen yarns. This workshop covers short worsted draw to woolen long draw and two additional techniques. Recognize appropriate fibers and yarn characteristics for each. Prepared fibers will be provided. Time permitting; fiber preparation will also be covered. Wool will be used. Students must be able to spin continuous yarn on a wheel.
Spinning Woollen Yarns
Discover the magic of woolen long draw. Most spinners learn to make smooth, compact worsted yarns. Take your spinning to the other extreme with true woolen long draw from hand-carded rolags. This method maximizes loft, elasticity and warmth in your yarn, and it feels like magic!
We'll discuss fiber selection and practice hand carding. This technique is also used on walking wheels, Navajo spindles, and charkas for spinning cotton.
---
Knitting Workshops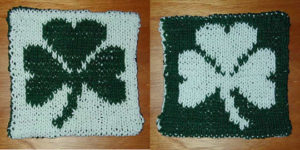 Double Knitting, Plain and Fancy
Double knitting produces two layered cloth. Use one yarn to create pillows, pockets, or double-thickness knitting with two right sides. Move on to two-color double knitting to produce reversible color patterns. Designs appear on both sides of the work with the colors switched. Start with a small sample and progress to designing your own reversible scarf. Casting on and binding off in double knitting will be covered. Students must have basic knitting skills – cast on, bind off, knit, purl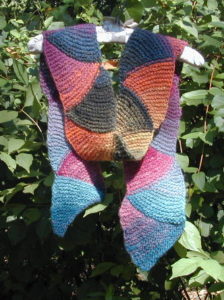 Wavy Wedges Scarf
Take short-rows to the extreme with a trick of geometry to create a unique scarf. Knitting is simple, but with a twist that makes it anything but plain. Creative yarn selection really makes the design pop. Only basic knitting skill required – cast on, knit and bind off.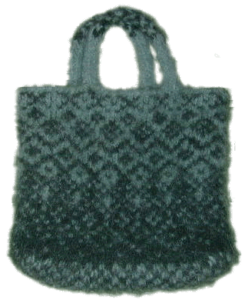 Fulled Fair-Isle Bag
Learn Fair-Isle knitting with this fulled two-tone knitted tote. Knit with two yarns at a time throughout the pattern. A simple six-stitch pattern changes a little with each round to create a color gradient. Practice both continental and American knitting styles to carry one yarn in each hand. Finish the bag with an I-cord handle and a trip through the wash. Only basic knitting skill required – cast on, knit and bind off.
Not finding what you want? Contact me with questions.